Pin It
Just a week until Valentines' Day. Have your kiddies picked out their cards for their classmates yet? If not maybe they'd like these
free vintage Valentine cards
.
This past week I showed you how to make
crayon hearts
, gave you a
Valentine reading list
, and
discussed Austenland with Kelly
.
Lets' see what some other people came up with this week.
Emma posted a recipe for these
yummy looking cupcakes
. Just looking at them makes me hungry. She also posted
a review for Sea Change.
Julie intends to
read Pride and Prejudice
. Good luck to her. I hope she falls in love with Mr Darcy.
April discusses her admiration for
the great 80's classic Say Anything
. I loved that movie.
I hope you've nominated your favorite
Literary Couple over at Michelle's blog
. She's been discussing her favorite couples all week and let me tell you she has great taste.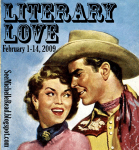 Can't wait to see what you come up with next week. I got a few things planned as well. Hope you come back to check them out.